The Project for the Construction of Educational Facilities in Bhutan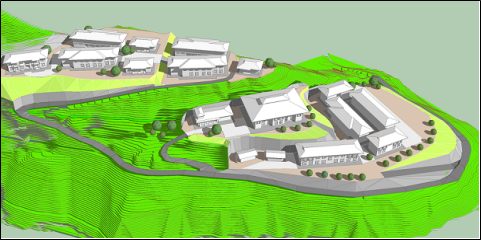 Translated with www.DeepL.com/Translator (free version)
Background
With the goal of realizing "a society in which the people can live with a sense of well-being," the Bhutanese government has been working to achieve balanced development that takes into account not only economic development but also the protection of the environment and traditional culture. In this context, education is considered to be the most important field as it is "the key to achieving the national goal" and has been the focus of intensive investment. As a result, the total enrollment rate reached 105.7% in the primary education process and 87.8% in the entire basic education program. Especially in secondary education, where the demand for enrollment has rapidly increased along with the spread of primary education, the number of students has continued to grow by more than 7% per year, and the expansion of access through the development of facilities has become an urgent issue. In 2005, at the request of the Bhutanese government, Japan decided to implement the Educational Facilities Development Plan, and constructed two secondary schools with grant aid. The plan was later suspended and a new request was made for the construction of eight schools, including three schools that had not yet been implemented.
Project description
Based on the results of the survey, this project formulated plans for five schools (three first priority and two second priority) from the eight requested sites, and developed schematic designs for the top four schools. In accordance with the newly introduced free community development support scheme, the project was required to achieve significant cost reduction based on the premise of local standard design and the use of local contractors. While the floor plan, room configuration and area, and specifications of each facility conformed to the Ministry of Education's standard design, improvements were made to the main structure and opening specifications to improve durability, livability, and workability, as well as to reduce costs.
The implementation design and construction supervision of this project was carried out by a local design firm under the supervision of the procurement agency.